How CharlieHR increased the representation of ethnic minorities by 67%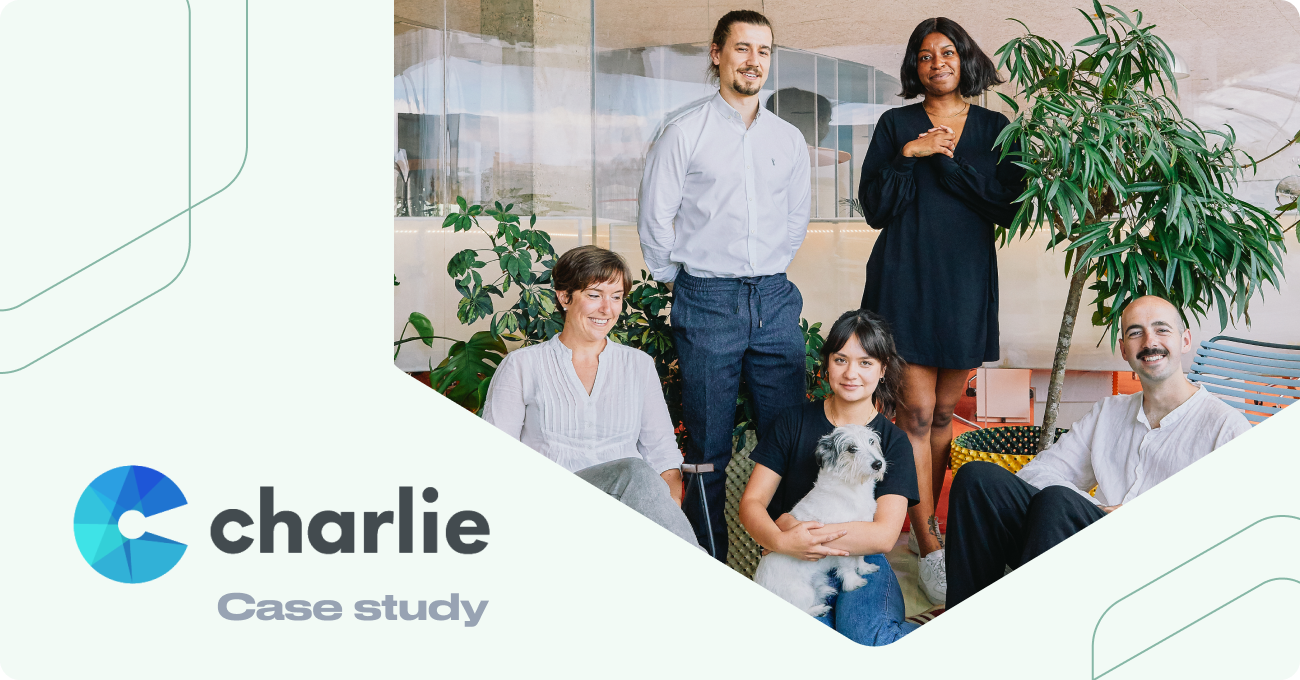 CharlieHR started using Fair HQ in November 2020 as their all-in-one D&I solution. Since then, they've developed a world-class hiring process with Fair HQ recommendations, and the hard work has paid off. CharlieHR has made huge improvements to diversity across the company, especially in leadership. We talked to Amy Cowpe, Chief of Staff at CharlieHR, about the story of their D&I journey with Fair HQ so far.
Location: London, UK
Size: 50 – 100 employees
Industry: People Ops
What they do: CharlieHR makes it easy for companies to automate their people processes. Their platform empowers companies to build strong, sustainable and supportive company cultures at scale.
Key takeaways 🎯
• Increased ethnic minority representation across the company by 67%, from 18% to 30%.
• From 0% to 13% ethnic minority representation in leadership.
• Inclusion gaps by ethnicity narrowed from 13% to just 5%.
• Hiring documentation scores 75-100% against checklists that measure the gold standard.
• Maintained an incredibly inclusive culture, with all 5 inclusion areas scoring above 8 out of 10 points.
CharlieHR are on a mission to make work better for everyone. Their People & Culture software helps 11,000+ companies build high-performing teams, so CharlieHR need to be the best they can be. CharlieHR have always prioritised diversity and inclusion, and they hold themselves to the highest standard because they want to lead the way.
The team at CharlieHR knew that they had to adapt in order to keep pace with the rapidly changing world of work. To attract the best diverse talent out there, they needed to stay at the cutting edge of best practices.
Why Fair HQ?
D&I operates on a long-term timeline, and for that reason, sometimes it's hard to know if your hard work is paying off. The team at CharlieHR noticed that they were lacking diversity in some parts of the company, and knew that something needed to change, but they wanted to make sure they were spending effort on actions that made a difference.
They were looking for a long-term solution to answer their pressing D&I questions:
How could they keep pace and lead the way with an inspiring diversity and inclusion strategy?
How could they develop a hiring process to attract diverse candidates and retain the top talent?
How could they demonstrate the impact of these changes with tangible D&I data?
CharlieHR wanted a dedicated, all-in-one platform to help them pinpoint issues, know how to improve and measure progress continuously.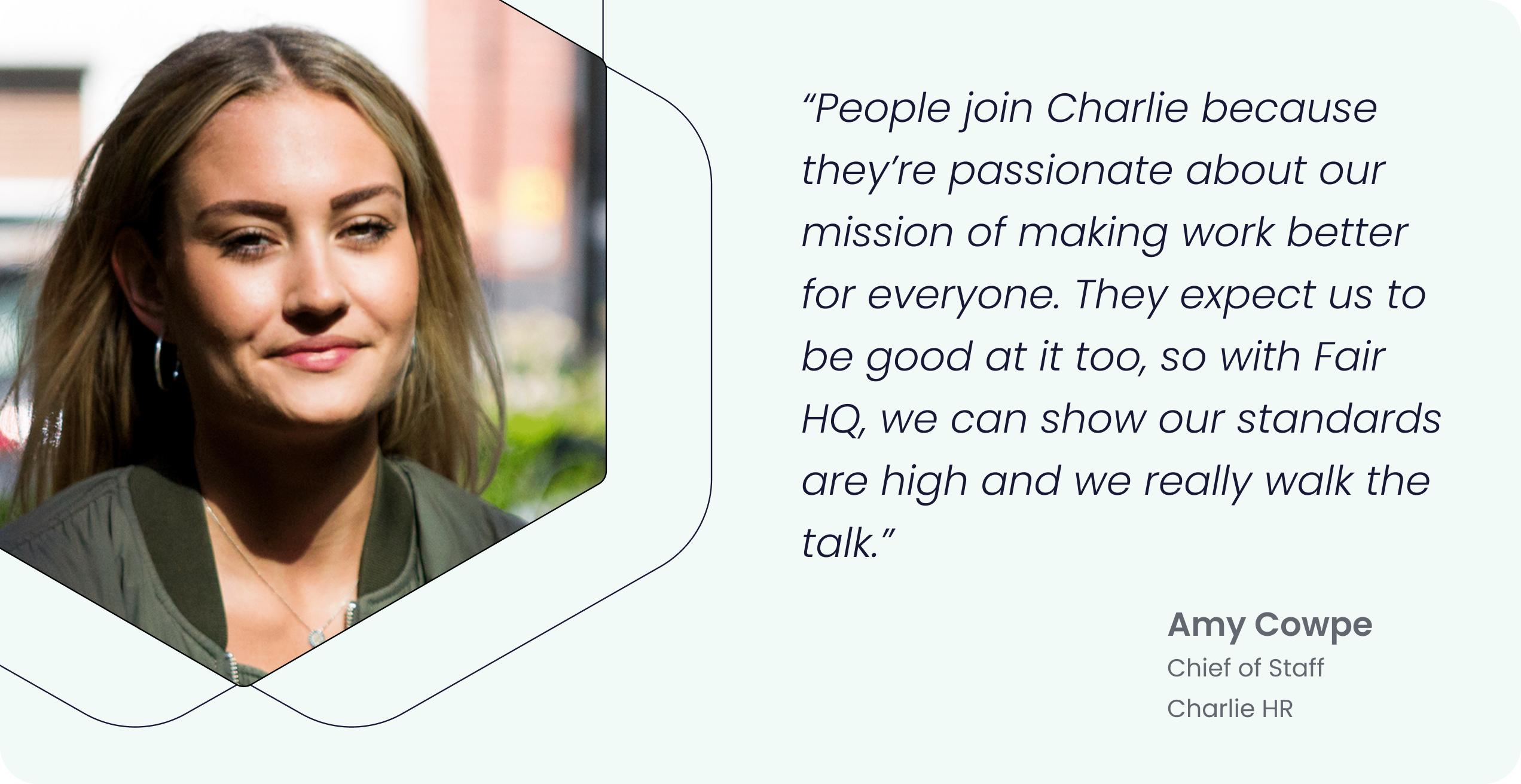 How CharlieHR developed equitable hiring foundations by using Fair HQ
The Fair HQ platform makes diversity and inclusion tangible with data, benchmarks and targeted solutions. The results showed that CharlieHR could improve their scores by developing bias-free hiring processes, which would welcome more diversity to the company.
Fair HQ's recommendations and checklists backed by behavioural science helped CharlieHR develop a world-class hiring process. Here's what they achieved.
1) Building foundations with solid hiring documentation.
To grow a diverse and inclusive organisation, you first need solid foundations to anchor things. Fair HQ scored all of CharlieHR's policies against research-backed checklists of best practices.
Armed with Fair HQ checklists to improve their hiring policies, the People Team at Charlie HR developed a set of documents that now all score between 75-100%.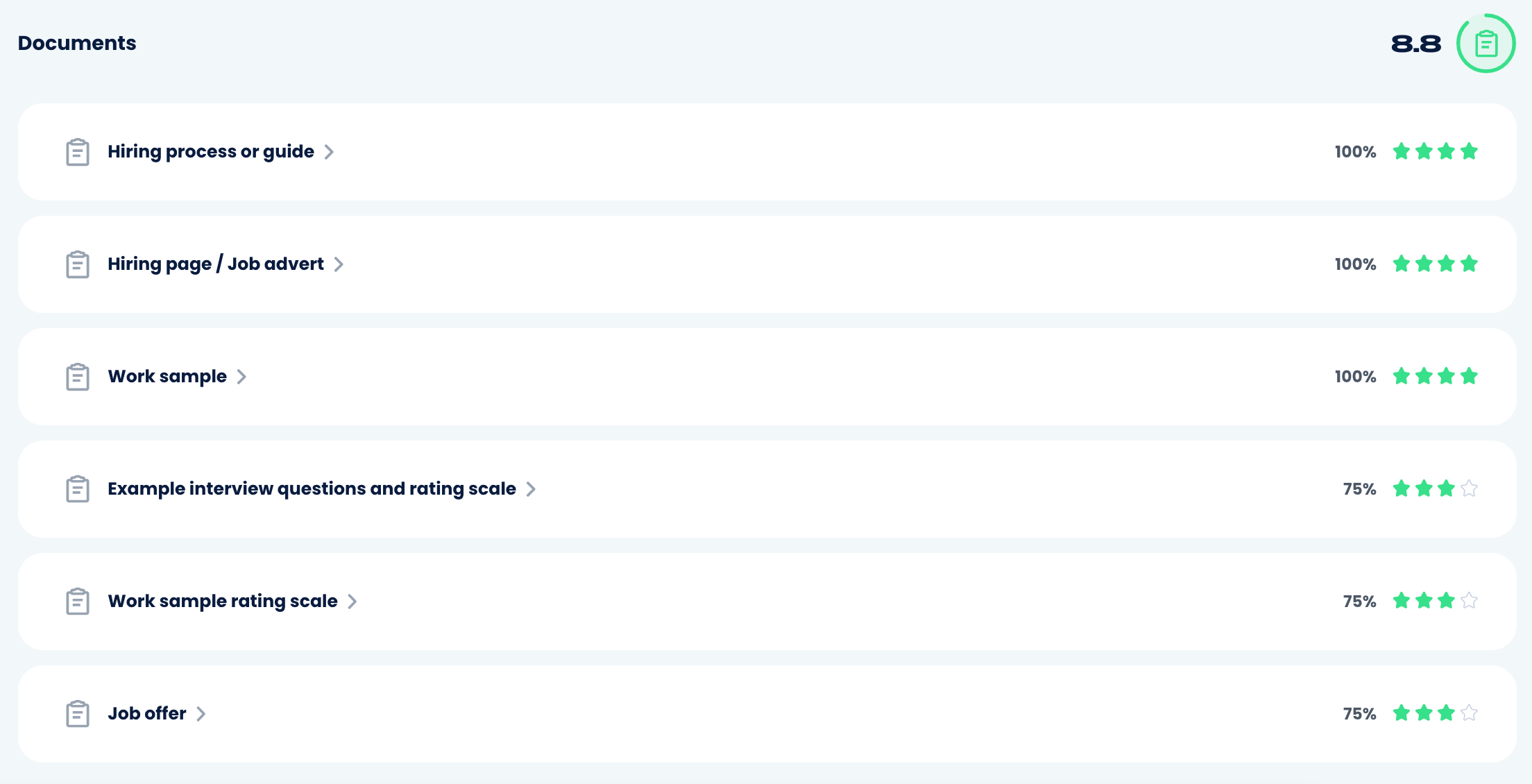 With strong internal policies, CharlieHR can:
Keep things consistent as the team grows. Hiring managers have access to clear guidance for biased free hiring that everyone can follow, even those less experienced with hiring.
Keep things simple. Decision-makers can refer to digestible checklists across the recruitment process.
Ensure that best practices are followed at every stage of recruitment. Fair HQ checklists cover every stage of recruitment, from writing the job ad to giving the offer.

2) Adding diversity to the pipeline
Attracting a diverse candidate pool is no easy feat. But if you've got a leaky pipeline, then talented candidates might slip through the cracks due to biased decisions.
To analyse where the leaks in CharlieHR's pipeline were, Fair HQ provided guidance on tracking diversity throughout the funnel. This enabled CharlieHR to discover where diverse candidates were dropping out and then focus attention on filling in the leaks with targeted Fair HQ recommendations.
Once the leaks were filled in, the team could focus on adding diversity at the top of the funnel. Fair HQ provided access to our directory of diverse job boards with 25 boards centred on underrepresented talent. Fair HQ recommendations also included developing a diverse recruitment team to give all candidates a positive experience of seeing someone like them.
"People understood that fixing our diversity debt was a top priority for CharlieHR. We talked openly with the team about why it was so important to fix that. When you approach it in the right way, people understand the intentions and are motivated to get involved." – Amy Cowpe
3) Giving every candidate a fair assessment
CharlieHR wanted to remove bias from every step of the assessment process. This would allow hiring managers to focus squarely on candidates' relevant credentials and not let assumptions sway things.
Here is a taste of the Fair HQ recommendations that provided CharlieHR with all the necessary ingredients to set up a fair, bias-free assessment process: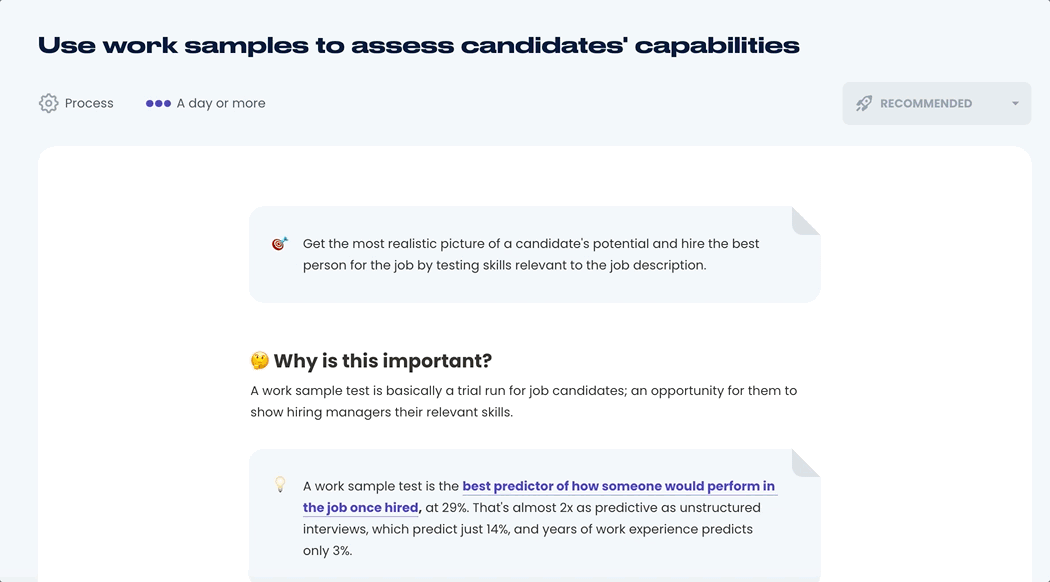 The impact on diversity
When CharlieHR updated their processes and resurveyed their employees, the Fair HQ platform provided new scores across diversity, inclusion and equality in January 2022. The results showed that their efforts were well worth the hard work.
In just over a year, they were able to:
Improve ethnic minority representation from 18% to 30% across the company.
Increase ethnic minority representation in leadership from 0% to 13%.
Narrow inclusion gaps by ethnicity from 13% to just 5%.
Along with plenty of other positive changes across the business: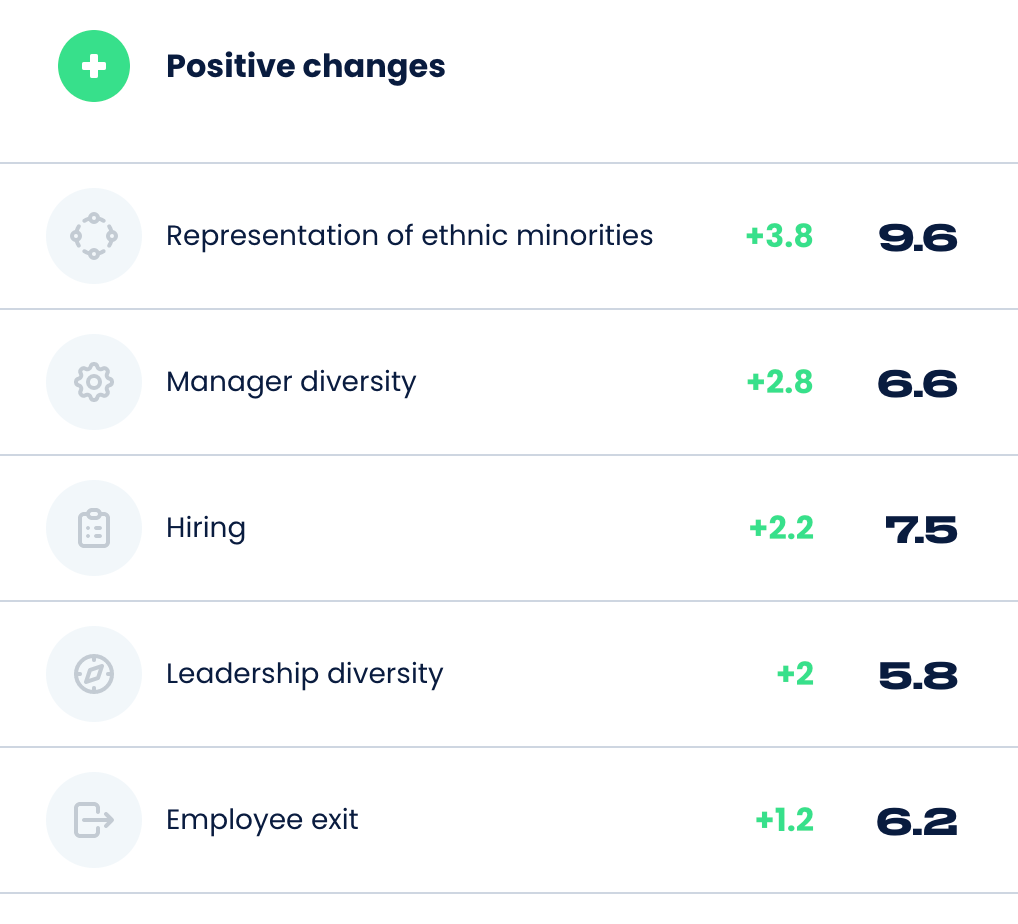 The impact on the team
When D&I is left to one member of the People Team, it can feel like you don't know if your efforts are paying off. Fair HQ makes the job much easier.
"With Fair HQ, you have tangible results to show that your actions really are making a difference across the board. I feel like the work is truly having a positive impact on building a great place to work." – Amy Cowpe
With Fair HQ:
You can break actions down into digestible chunks for different individuals to focus on
You have timeframes to progress against, keeping motivation high for D&I work
Tasks are broken down with clear guidance for every step, making it easy to delegate tasks and implement change.
It's much easier to communicate D&I progress to the rest of the team, showing the impact of all the hard work that goes on behind the scenes. Fair HQ provides accessible insights reports on equality, diversity and inclusion that you can share with employees and leadership.