How to empower managers to hit your D&I goals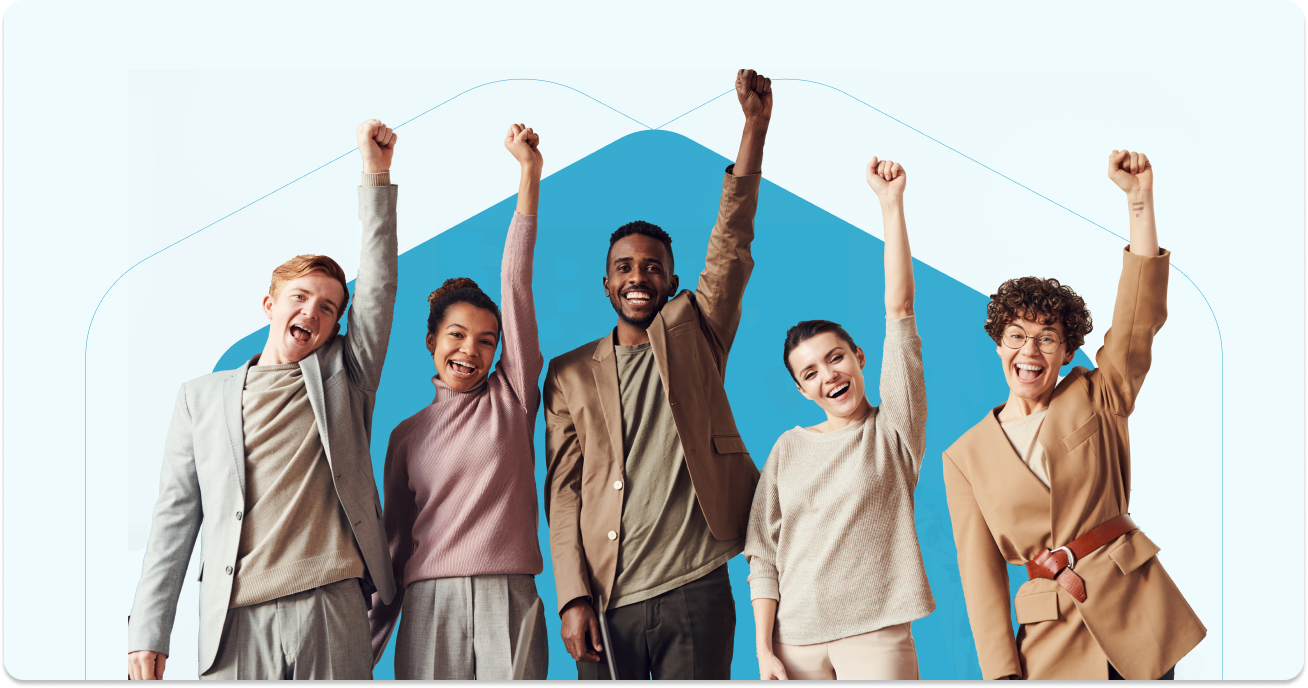 Setting D&I goals is one thing, but how do you make sure they're followed through on? It's standard across all other business outcomes to be rewarded for meeting targets, and face consequences for falling short. Diversity and inclusion should be no different. Set clear measures of accountability and offer continuous support to all those involved in reaching your diversity targets.
Your company-wide goals for diversity and inclusion set the vision for where you want to be. Setting the targets is one thing, but how do you make change happen? D&I is a company-wide responsibility and you'll need to work together across teams to drive progress. This requires horizontal and vertical collaboration with managers, leaders, heads of departments, recruiters and more. That's a whole lot of people, and they all need to be on board. But not to worry, with this guide, you'll nail it!
How to motivate managers to achieve D&I goals
These are the questions on everyone's mind when it comes to setting goals: how do we get managers motivated, how do we make sure we reach targets, and what happens when we don't?
The answer isn't as complex as you might think. If you're running a business, you probably set targets for other outcomes, such as sales, website hits, productivity or revenue. And managers probably face consequences for falling behind targets and get rewarded for meeting (or exceeding) them. So why should goals for diversity and inclusion be any different?
Ideally, D&I targets should follow the same mechanisms of accountability and reward to motivate managers to achieve them, just like in Sales or Marketing. Make sure you equip managers with all the tools and support they need to make necessary changes to processes and hit D&I targets.
This way, you'll set the agenda for change and get all levels of the organisation working together to achieve it.
🎓 What's so powerful about setting goals?
Goals help us do 2 things: they create the will to change, but also tap effectively into the ways to change. We, humans, thrive on goals! They…
👁 focus our attention (crucially, away from goal-irrelevant activities);
🏃‍♀️ energise us to get started;
💪 create the commitment to stick with it even when it's challenging;
⚡️ encourage us to tap into our experiences and networks to reach the goal.
Source: Chilazi, S., & Bohnet, I. (2021). 'Behavioral Economics: Promoting Diversity, Equity, and Inclusion Through Goal-Setting.' The Behavioral Economics Guide 2021.
 ✅ Checklist of actions:
Set incentives and rewards for meeting diversity goals
Give managers access to the training, support and time required to meet goals
Celebrate successes and learn from mistakes
When your goal cycle is complete, set new goals!
1) Set incentives and rewards
It's standard across most business outcomes to be rewarded for meeting (or exceeding) targets, and face consequences for falling short. Diversity and inclusion goals should follow the same formula.
Effective accountability practices include:
Financial incentives
Research suggests that this is a powerful way to motivate behavioural change (see Bohnet & Chilazi below). If you already use bonuses as an incentive to meet targets in other business outcomes, then apply the same mechanisms to diversity goals.
Performance points
In your company, are managers rated on their sales, retention of staff, profitability or other metrics of performance? If so, then add D&I goals to the equation — for example as a topic on their performance review form. Follow the same process for any other business outcome, with scores associated with meeting, exceeding and falling behind targets.
Crucially, these metrics should be tied to promotions to really motivate managers to work towards them. You can make hitting these targets a condition for career progression. Over time, you'll have senior leaders fully dedicated to diversity, equality and inclusion.
💡 Hint: If this is your first time trying diversity and inclusion goals, try out a grace period. For the first year, managers will face no consequences for not meeting targets so that they can try out new ways of doing things. Implement accountability mechanisms the year after.
2) Provide organisational support
Managers need to be fully on board with your D&I initiatives. When making changes to your day-to-day processes, managers can make or break success, which is why lots of D&I initiatives fall at the manager level. You can overcome this hurdle by providing managers with the tools, resources and organisational support to succeed.
For managers to be able to achieve targets, they need access to all the necessary resources, including:
Access to training on hiring, promotion and any other relevant policies and practices.
A point of contact with a strong understanding of your D&I goals and internal procedures who can help overcome challenges.
Ample time to fill vacancies. When we're rushed for time, we tend to stick to the status quo, which means diversity initiatives slip down the priority list. Encourage managers to plan hiring drives well in advance.
Make sure managers know who they'll report to and how they will be held accountable for driving D&I initiatives. Strong ownership and responsibility will simplify the process of embedding change.
Targets for diversity should be just one part of your holistic D&I strategy. They should live alongside innovative recruitment and promotion processes that help you welcome more diversity into the pipeline. It's also important to set up norms for inclusive behaviour, for example with regular 1-on-1s and strong support for mental wellbeing, to make sure new employees feel a sense of belonging.
3) Hold leaders to account
To show that you take D&I seriously, you need to follow through on your promises.
People are much more committed to meeting goals when they know they'll be held accountable later down the line. And sharing successes with the team helps everyone learn from each other and avoid repeating mistakes. So, at the end of your goal cycle…
🏆 If diversity goals have been met…
Then celebrate the successes! Make sure to share experiences across the organisation so that teams can learn from each other. And use this as input for your next round of goals.
Follow up with your agreed-upon reward mechanism. This could be with a bonus, or with recognition on performance reviews, acting as a plus point towards promotion.
For recruiters, talent managers or hiring managers it's straightforward to reward for hitting their diversity goals. Just set clear bonus amounts upfront for getting close to, hitting, and exceeding the target.
And of course, now it's time to set new targets!
↘️ If diversity goals have not been met…
Then make sure to investigate why. Review the team's recruitment practices to see if anything could have been done differently. It's not about assigning blame, but about getting clear on how to improve.
Were the targets set too high? How would you adjust them for the next quarter(s)?
Were the targets set against too long of a timeline? What intermediate goals can you set?
Does the team need additional resources?
Follow through on the consequences you introduced when setting goals. Managers may not receive a bonus or may score low on their performance score for diversity.
With the right motivation, support and resources, diversity goals should be achievable for anyone. Next up, we'll dive into how to communicate your D&I goals and insights to your team and beyond.
Backing it up
Bohnet, I. & Chilazi, S. (2020) 'Goals and Target for Diversity, Equity and Inclusion' Harvard Kennedy School White Paper
The Behavioural Insights Team (2021) 'How to improve gender equality in the workplace: evidence-based actions for employers' How to improve gender equality toolkit
The Behavioural Insights Team (2021) 'How to set effective targets' How to improve gender equality toolkit
Diversity Best Practices (2017) 'Setting and Achieving Diversity Targets.'
Whelan, J., & Wood, R. (2012). 'Targets and Quotas for Women in Leadership: A Global Review of Policy, Practice, and Psychological Research.' Centre for Ethical Leadership, Melbourne Business School.