How to set diversity goals, the smart way.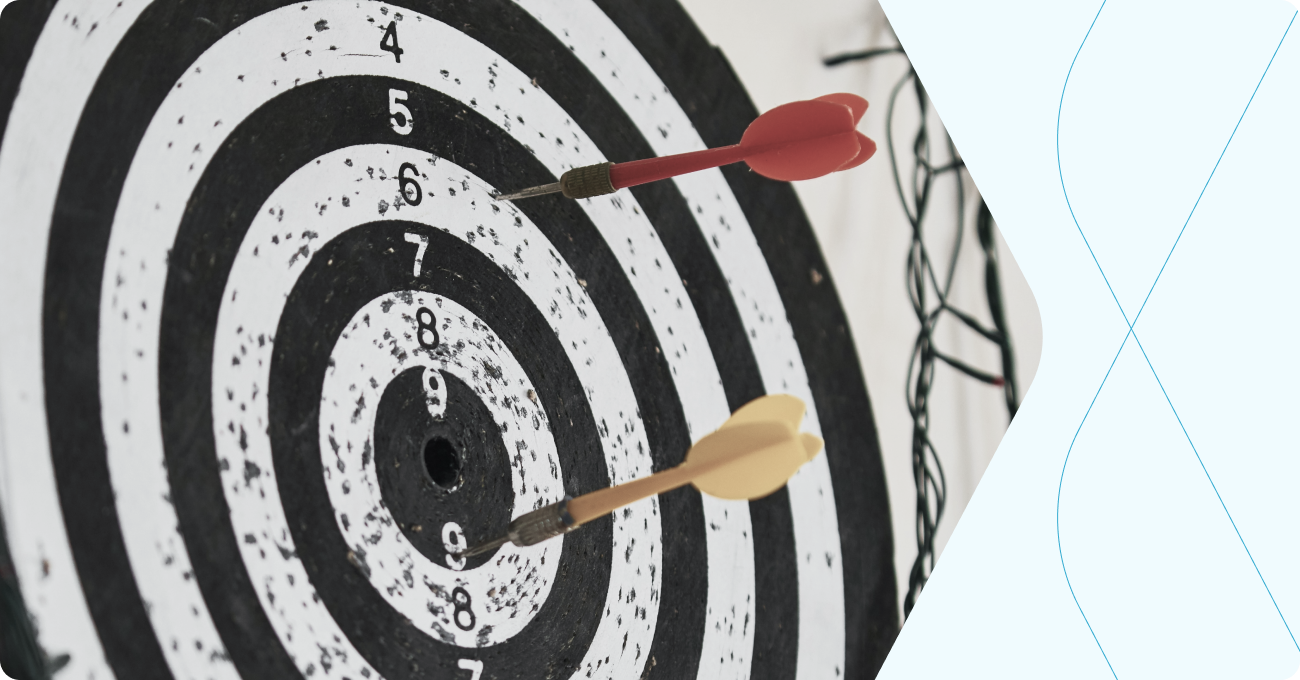 Effective diversity goals can focus efforts towards change and shift your company make-up. But you'll struggle to reach them without the right input, structure and scope. This article gives you everything you need to set realistic and inspirational goals for diversity.
Goals are inherently motivational. They focus attention on the gap between where we are now and where we want to be and help to direct efforts on getting there. Setting goals for diversity can help you achieve a fair representation of different groups at every level of your organisation.
Diversity goals aren't easy. Have you found it challenging to strike the balance between aspirational and realistic targets? Does it feel like you're plucking targets from thin air? These are common challenges to come up against.
To set goals that people connect to and feel motivated to work towards, they need to be realistic, specific, inspirational and inclusive.
In this post, we'll introduce you to a goal-setting framework to get the ball rolling, and how to use data to set goals that are relevant to your organisational context. This is just the first part of our series. In our upcoming posts, we'll cover how to keep managers and leaders accountable for your goals, and how to communicate goals to the wider team so that everyone is involved.
So let's get started!
Checklist of actions:
Think about what you want to change and where you want to be when it comes to diversity.
Benchmark your company makeup to get meaningful input for your goals.
Set goals for diversity that are specific, measurable, aspirational, relevant and time-bound.
What's so powerful about setting goals?
Goals help us do 2 things: they create the will to change, but also tap effectively into the ways to change. We, humans, thrive on goals! They…
👁 Create accountability: the expectation that you'll have to justify your actions;
🤩 Build recognition: accomplishing a goal creates pride and recognition;
👥 Convey social norms: goals tell us what's the (socially) acceptable thing to do;
🏆 Activate competition: compare your progress against others.
Source: Chilazi, S., & Bohnet, I. (2021). 'Behavioral Economics: Promoting Diversity, Equity, and Inclusion Through Goal-Setting.' The Behavioral Economics Guide 2021.
1) Compare your company makeup
To set successful goals, you need to carefully consider the input. Goals need to be specific, but if numbers feel arbitrary, then you'll struggle to meet them.
It's important that your targets are aspirational enough to motivate people to work towards them. If they're too easy, not much will change. If they're too tough, people will feel like they've been set up for failure.
To set realistic and specific goals, you'll need to do a bit of research. Benchmarking yourself against industry standards and the representation of your local community will help you understand what "good" looks like. It will give you a strong idea of what others have achieved and what you can aspire to.
Luckily, we've taken care of the hard part for you. Fair HQ has created a library of external benchmarking statistics for you to compare yourself against. Just click below 👇
Once you have a good sense of what to aim for, you have all the ingredients you need for setting your goals.
2) Think about where you want to be in terms of diversity
Now that you have the data, you'll have a good idea of where you want to get to and what diversity you want to achieve. You might set your sights high, but you should keep diversity goals focused. Spend a few hours brainstorming ideas with key stakeholders to discuss the remit of your goals.
💡 Fair HQ hint: Make sure to invite leaders to the conversation! Diversity goals should always be created in collaboration with the executive team. This heightens the importance of your goals and sets them as a top business priority.
Here are some questions to ask yourself:
What do we do well as a business?
When setting goals, it's important to consider what actually needs to change. Let's take a classic new year's resolution as an example: "I want to be more healthy". That could mean hundreds of things — go to sleep earlier, eat more veg, do more exercise… Maybe you're a marathon runner but you still have 5 sugars in your cup of tea. You'll want to focus efforts on things that need to change, not what you already do well.
Once you understand your strengths when it comes to diversity, you can learn from your successes and focus attention on your weaker points.
Benchmarking will give you a good idea of what to work on, but the deepest insights into what you do well as a business will come from an audit. Fair HQ can analyse your people, processes and behaviours to give you a full picture of areas you excel in and things to work on in terms of diversity, equality and inclusion.
Piqued your curiosity? You can read more about the process here.
What areas do we need to work on?
Take a long hard look at the figures. Maybe you have plenty of diversity at junior levels, but this tapers out as you go up the ladder. Or perhaps you've achieved gender parity across the organisation, but you're lacking a fair representation of Black people at the manager level.
Keeping diversity goals laser-focused on areas of diversity that need work will massively heighten their impact.
Where do we want to be?
Think about what you want the company to look like in the future. Which metrics of diversity do you want to focus on? Most of the time, the conversation around diversity centres around gender and ethnicity. Make sure to also take into consideration invisible metrics of diversity, such as disability, neurodiversity, education-level and parenthood.
Looking too far ahead into the future can be a bit overwhelming. If you're a young company, it's hard to imagine how much things will change in the next few years.
As a rule of thumb, just look 1 year ahead if you're a 1-year-old startup. For scale-ups, think about the next 24 months. And look 3 years ahead for a mid-size company.
3) Set your diversity goals
Now it's time to think about how to get to where you want to be.
To keep goals inspirational and motivational, follow the SMART acronym. Goals should be Specific, Measurable, Attainable, Relevant and Time-bound. If you tick all of these boxes, you'll reduce all ambiguity and put the finish line in clear sight.
Let's look at some examples and build a SMART diversity goal step by step:
Specific
Have a think about goals you've set for yourself. Maybe you want to "read 20 books this year," but that sounds a bit daunting. "Read 2 books a month" sounds more doable doesn't it? Goals are easier to achieve if you break them down into bite-size chunks. Now let's apply it to diversity:
❌ 'We will improve diversity in our company.'
✅ 'We will improve the representation of women in management.'
Measurable
If you can't measure it, you can't manage it. To make your goal measurable, add specific figures. Otherwise, your targets will feel like a stab in the dark. Setting targets backed by numbers will help you keep track of progress and know what good looks like.
❌ "We will hire more women in our company.'
✅ 'We will achieve 40% representation of women in management.'
Attainable
This is where external comparisons come into play. Use the figures to ascertain a realistic target for your company. Add in a reference to your benchmarks so that goals feel tangible. When people know that your targets have been thoroughly researched, they'll trust the process and feel more committed to seeing it through.
❌ 'We will hire 25% more women in the next 12 months.'
✅ 'We will achieve 40% representation of women in management. In London, 38.8% of managerial positions are filled by women, so we can reach that figure too.'
Relevant
For goals to be successful, they should be aligned with your organisational mission. When people can relate goals to their personal and organisational success, they'll be motivated to work towards them. Why is diversity important for your company, and what benefits does it bring to your workplace? Make sure to reflect the answers in your goals.
❌ 'We will improve the representation of women in management because we're lacking a gender balance in our company.'
✅ 'Diverse teams are more creative, better at solving problems, and approach tasks from a variety of perspectives. That's why we're focusing on improving gender diversity at the managerial level…'
Time-bound
Set a deadline for when you want to achieve your goal. Make sure to add milestones along the way so that your target never seems too far off. This will make it easier to prioritise tasks and progress continuously.
❌ 'We're aiming to achieve 40% representation of women in management in the long term.'
✅ "By 2025, we will achieve 40% representation of women in management. At the end of this year, we will improve that figure from 13% to 20%.'
Examples of smart diversity goals
Add all of these ingredients together, and you've got yourself an inspiring, smart diversity goal:
"Diverse teams are more creative, better at solving problems, and approach tasks from a variety of perspectives. That's why we're focusing on improving gender diversity at the managerial level. By 2025, we will achieve 40% representation of women in management. To achieve this long-term goal, we aim to get to 20% women in management by the end of Q4, from 13% today."
Here are some more examples:
"To welcome more diversity in our company, we need to start at the top of the hiring funnel. By the end of 2022, 90% of our interview shortlists will include at least 30% of minority group members (women or people from underrepresented ethnic groups). To achieve this target, we are introducing several interventions: blinding CVs, expanding our job boards and setting up a diversity referral scheme."
"Our leadership team is currently 80% homogenous — that means that only 2 people on the team come from minority backgrounds. We want to send the message that everyone in our company can reach the top, no matter their background. By 2025, 40% of our leadership team to be from minority backgrounds. To break this down, we are opening 2 senior positions to be filled by women or people of colour in 2022."
This is only one way to set diversity goals, but it's a dependable framework to help you overcome all the typical hurdles that hold companies back.
If you'd like to follow a more structured approach, our upcoming article introduces you to the Gender Proportionality Framework. Stay tuned.
💡 Fair HQ hint: Make sure your diversity goals live in the same place as your other strategic business objectives, OKRs or KPIs. This way, you'll be regularly reminded of your targets and encouraged to keep on track. It sends the message that diversity is a top priority around here.
How do our customers do it?
When setting Beamery's targets for diversity, Sinead Daly, Director of Culture and Experience, told us that the main hurdle they come up against is figuring out where to start: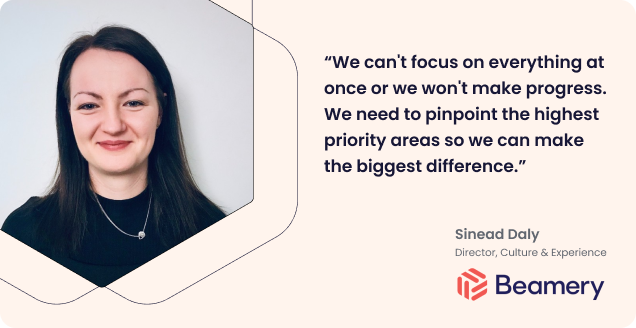 As part of the audit process, Fair HQ provided a full breakdown of representation at Beamery across departments and levels. With Fair HQ benchmarks, Beamery could see what "good" looks like in terms of diversity, and what they should be aiming for.
Armed with this insight, Sinead is in a position to set targets for diversity, and is currently developing an inspiring plan of action for exactly how to get there, including inspirational targets and interventions to make change possible. We'll soon be publishing a case study where you can read more about Beamery's D&I journey.
How can you achieve your goals?
Diversity goals aren't about ticking boxes. You need to pair your targets with a robust hiring and promotion process where candidates face a fair assessment based on capabilities, not background.
Hiring for diversity helps you reach a broader candidate pool, and when matched with an equitable hiring process, you'll hire the top person for the job. But goals are just one part of a holistic D&I programme. Check out a few of our other articles for more guidance on advancing D&I across your entire business.
Next in the series, we'll dive into exactly how to benchmark diversity in your company.
Backing it up
Bohnet, I. & Chilazi, S. (2020) 'Goals and Targets for Diversity, Equity and Inclusion' Harvard Kennedy School White Paper
The Behavioural Insights Team (2021) 'How to set effective targets' How to improve gender equality toolkit.
The Behavioural Insights Team (2021) 'How to improve gender equality in the workplace: evidence-based actions for employers' How to improve gender equality toolkit.