How to prioritise D&I when your company is rapidly growing: Cervest case study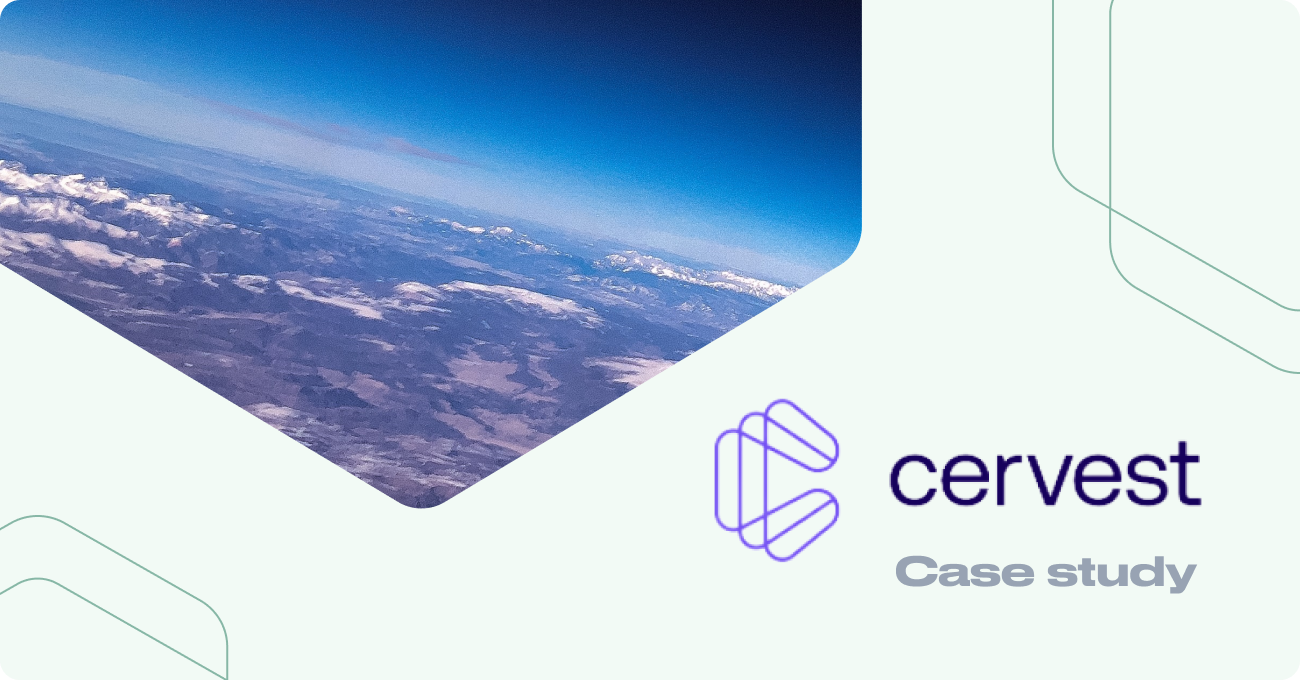 Cervest are proof that Diversity and Inclusion don't have to slip down the priority list when you're going through rapid growth. They improved diversity and maintained strong inclusion all while tripling the size of the team. So how did they do it? Astrid Dyrli, People Operations Coordinator at Cervest, told us how using the Fair HQ platform helped Cervest deliver this success.
Location: Cervest is a remote-first company based in the UK, with employees across Europe and the USA
Size: 100-250 employees
Industry: Climate Technology
What they do: Cervest provides on-demand Climate Intelligence (CI) on any asset, anywhere — giving enterprise and government decision-makers the most comprehensive view possible of climate risk on the buildings and properties they own, manage or rely on.
The challenge of prioritising D&I as a fast-growing startup
If you're a fast-growing company looking to bolster diversity and inclusion, you've probably asked the question: 'How do we keep up with progress whilst going through rapid growth?'
It's hard to make sure you keep diversity top of mind, especially when you have to act fast to snatch up the top talent. And how do you ensure that when new hires join, they are greeted with an open, supportive environment?
Getting D&I right requires lots of changes to your day-to-day. As a founder or leader, you probably have hundreds of priorities competing for your attention and resources. How can you make D&I easy?
Our customer Cervest has tripled their team size in the last year, and they're continuing to grow now. With this rapid growth, it's even more impressive that Cervest has improved diversity and maintained an inclusive culture. We talked to Astrid Dyrli, their People Operations Coordinator, to find out how they did it.
Why Fair HQ?
Cervest is a mission-driven company. They're building a climate intelligent product to address the most pressing problem of our time – climate change. Tackling a problem of this magnitude requires a diversity of perspectives and experiences supported by a strong D&I philosophy and strategy.
D&I was ingrained in the company's DNA from the start, but with the company's rapid growth, they wanted to ensure their D&I practices kept pace. As a technology-based company, an automated solution was a natural place to turn.
But how could they keep pace while their team was expanding?
How could they embed the latest D&I processes to support a growing team?
How could they maintain that sense of togetherness and inclusion that tends to come easier when teams are small?
Cervest chose Fair HQ to be their all in one D&I platform. The Fair HQ platform provides the insights to get focused so that you can spend effort on the D&I actions that really make an impact.

What has Cervest achieved so far?
Since using the Fair HQ platform, Cervest has achieved some impressive improvements. Here are some of the highlights:
Onboarding
With so many people joining the company, Cervest wanted to make sure new joiners could hit the ground running with a solid onboarding set-up.
Armed with the Fair HQ recommendation on setting up a buddy system, Cervest onboarded nearly 100 new employees in record time and helped them get settled quickly.
Cervest developed a more comprehensive new hire packet. Fair HQ document checklists show exactly what to include to give new hires all the info they need.
Hiring & diversity
Since using Fair HQ, Cervest has improved the representation of women across the company from 26% to 38%, well above the industry average of 25%. Here are some of the features of their hiring process:
Writing inclusive job ads that signal a commitment to diversity
Growing the collective intelligence of the team with a fair, skills-based hiring process
Enhancing their already structured hiring process with standardised scorecards across interviews to make sure candidates are assessed consistently by interviewers
Inclusion
Cervest makes it easy for everyone to get involved in D&I.
The People Team regularly shares high-level insights from the Fair HQ platform with the rest of the team. Research suggests that sharing diversity data motivates stakeholders to act, take responsibility and drive change, especially when paired with aspirational D&I targets.
Cervest established a brand new D&I committee with representatives from different teams across the company. The representatives can bring unique problems to the attention of the committee and develop solutions together.
Cervest encourages employees to drive grassroots D&I initiatives, including starting and joining affinity groups such as #parenthood and #pride, company Slack channels for resource sharing and learning about D&I topics, and social groups that focus on a D&I topic every 3rd month — a recent one was Women in Data.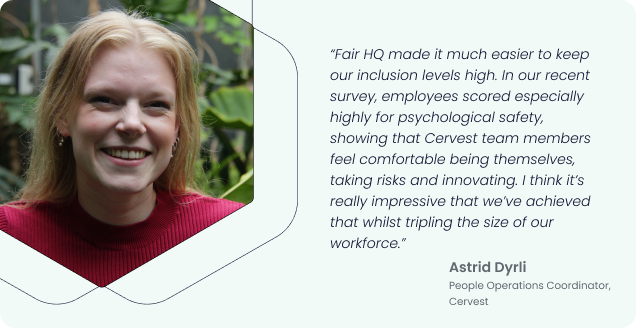 How Cervest engages managers in D&I
In every company, managers are integral to embedding changes to day-to-day processes. For that reason, lots of D&I efforts fail at the manager level if they aren't engaged in the journey.
The progress Cervest achieved was made possible because managers are involved in the D&I process end-to-end. The People Team equipped managers with the tools they need to drive change and built structures of accountability to set clear ownership:
The executive team set D&I as a top business priority and divided D&I initiatives into smaller cycles to track progress and keep everyone aligned.
Cervest shared Fair HQ scores and insights with managers to give them a full picture of how they're currently doing. Managers at Cervest are data-driven, so the Fair HQ reports had a strong impact and managers really engaged with them.
With Fair HQ recommendations at their fingertips, the People Team could easily provide managers with step-by-step guidance, templates and evidence to help them embed D&I in the priority areas of the business.
The People Team encouraged managers to set time-bound objectives for D&I to make change stick. For example, they set up new 1-on-1 progression conversations just before the promotion cycle and reminded managers when the cycle was approaching.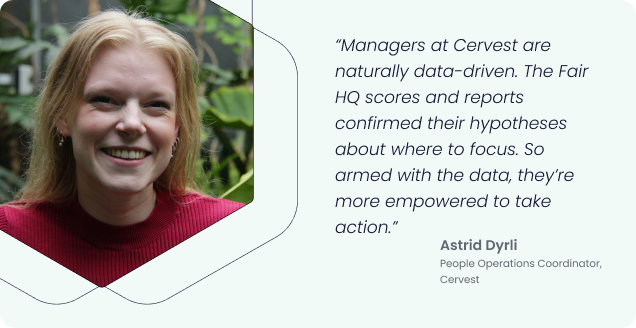 Cervest are a shining example of how to prioritise D&I when you're a rapidly growing scale-up. They're proof that Diversity and Inclusion don't have to slip down the priority list. We're really excited that Cervest chose Fair HQ to help them on this journey.
Want to hear how Fair HQ can help you get clear on your D&I priorities, and achieve them?