How Beamery put Equality at the heart of everything they do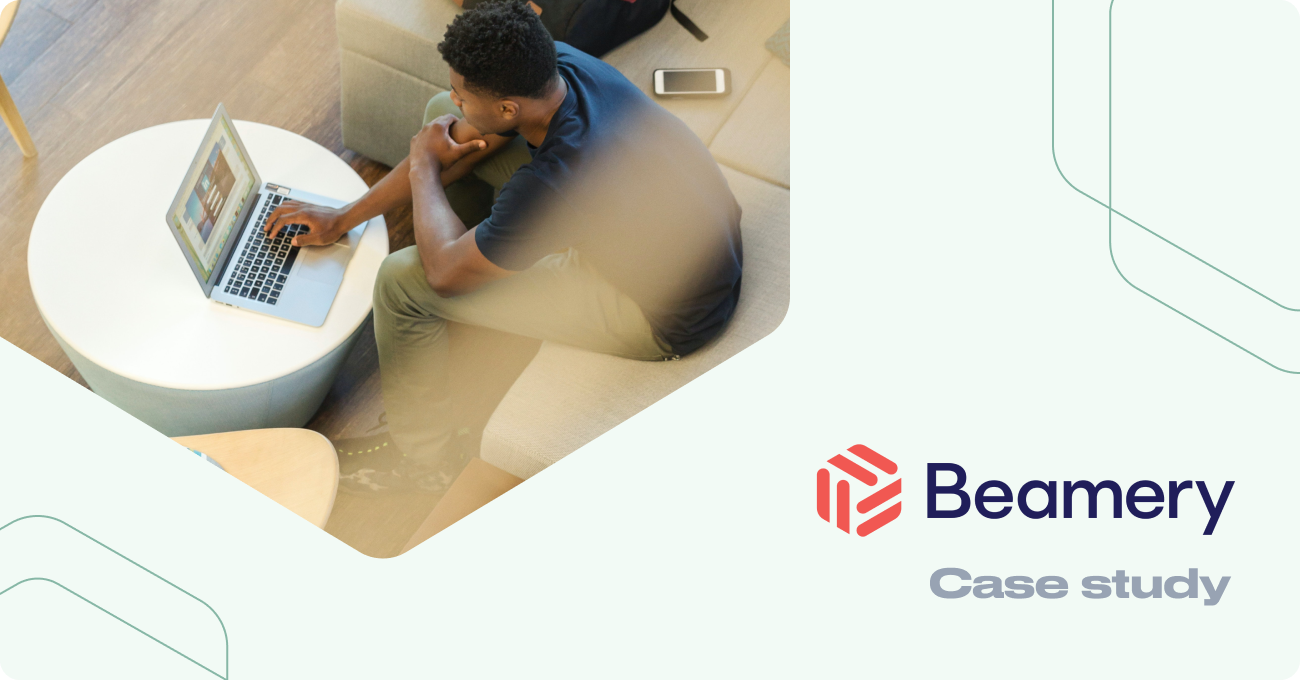 Beamery is on a mission to transform talent management. As a pioneering HR software platform, investing in their own talent makes total sense — they believe in the power of people. Beamery wants to nurture connection and growth at every stage of the employee experience. Sinead Daly, Director, Culture, Experience & Impact at Beamery, spoke to us about how Fair HQ helps the team continuously improve the employee experience.
Location: HQ in London, with employees also based in North America and Europe
Size: 500-1000 employees, 
Industry: Enterprise HR software valued $1Bn+
What they do: Beamery empowers companies to attract, engage and retain top talent with their end-to-end Talent Lifecycle Management platform.
Key outcomes in 12 months 🎯
Synchronized DEI data collection under one umbrella in a compliant way
Prepared their Impact manifesto showcasing their DEI progress and commitment to customers, employees as well as investors

Equality scores doubled

Closed the inclusion experience gap for LGBTQ+ employees, showcasing a culture of openness and belonging.
Performance score jumped from 1.9 to 7.3 out of 10, from lacking foundations to developing a consistent, transparent process.
The onboarding score doubled, from 4 to 8 out of 10,
Eliminated performance achievement gaps for gender and ethnicity, now with perfect fairness of outcomes.
Beamery puts equality at the heart of everything they do. They know that with fair, transparent processes, diversity and inclusion flourish. Sinead Daly and her team were looking for a tool to keep those values thriving as the business grew. They wanted to:
Take stock of where they were when it comes to diversity, equality and inclusion.
Pinpoint areas of improvement to have the greatest impact across the business.
Unite their internal vision for diversity, equality and inclusion and align the work of the team.
"With Fair HQ, we were able to achieve a holistic view of equality, diversity and inclusion whilst remaining focused. The targeted interventions that Fair HQ gave us allowed us to dig deeper into our priorities. Having that holistic view coupled with a tactical perspective is really useful." – Sinead Daly, Director of Culture and Experience at Beamery.
The impact of using Fair HQ on the business
Beamery started using Fair HQ in November 2020 to get a 360 picture of their D&I.
For Sinead and the team, Equality was their big-ticket area — they were dedicated to setting up solid foundations across all their people processes. Fair HQ showed exactly what to change to bring this to life.
The Fair HQ platform enabled the team at Beamery to build internal focus around D&I, and their hard work paid off. By February 2022, Beamery had doubled their Equality scores.
The reports in the Fair HQ platform lend visibility to Beamery's D&I initiatives. With the undeniable data showing the impact of diversity and inclusion, Sinead's team is able to prioritise effectively and get buy-in from leaders across the business.
"Very often with diversity and inclusion initiatives, it's hard to measure progress beyond sentiment. With Fair HQ, the scores show this positive trajectory of change. So it's great to have the deep dive of metrics and scores to get a three-dimensional view." – Sinead Daly
The impact on the team
Beamery has been inspired by Fair HQ language to set an aspirational vision for diversity, equality and inclusion.
In August 2022, Beamery launched the Impact & Sustainability Manifesto, outlining clear environmental, social and governance (ESG) goals and further supporting Beamery's commitment to the UN Sustainable Development Goal of reducing inequalities. It sets out a roadmap of where they want to be and exactly how they'll get there.
The manifesto showcases Beamery's open approach to diversity and inclusion. People at Beamery are really engaging with the fact that equality is at the centre.
Everyone can see the business priorities and how things are progressing, making it easy to connect with D&I.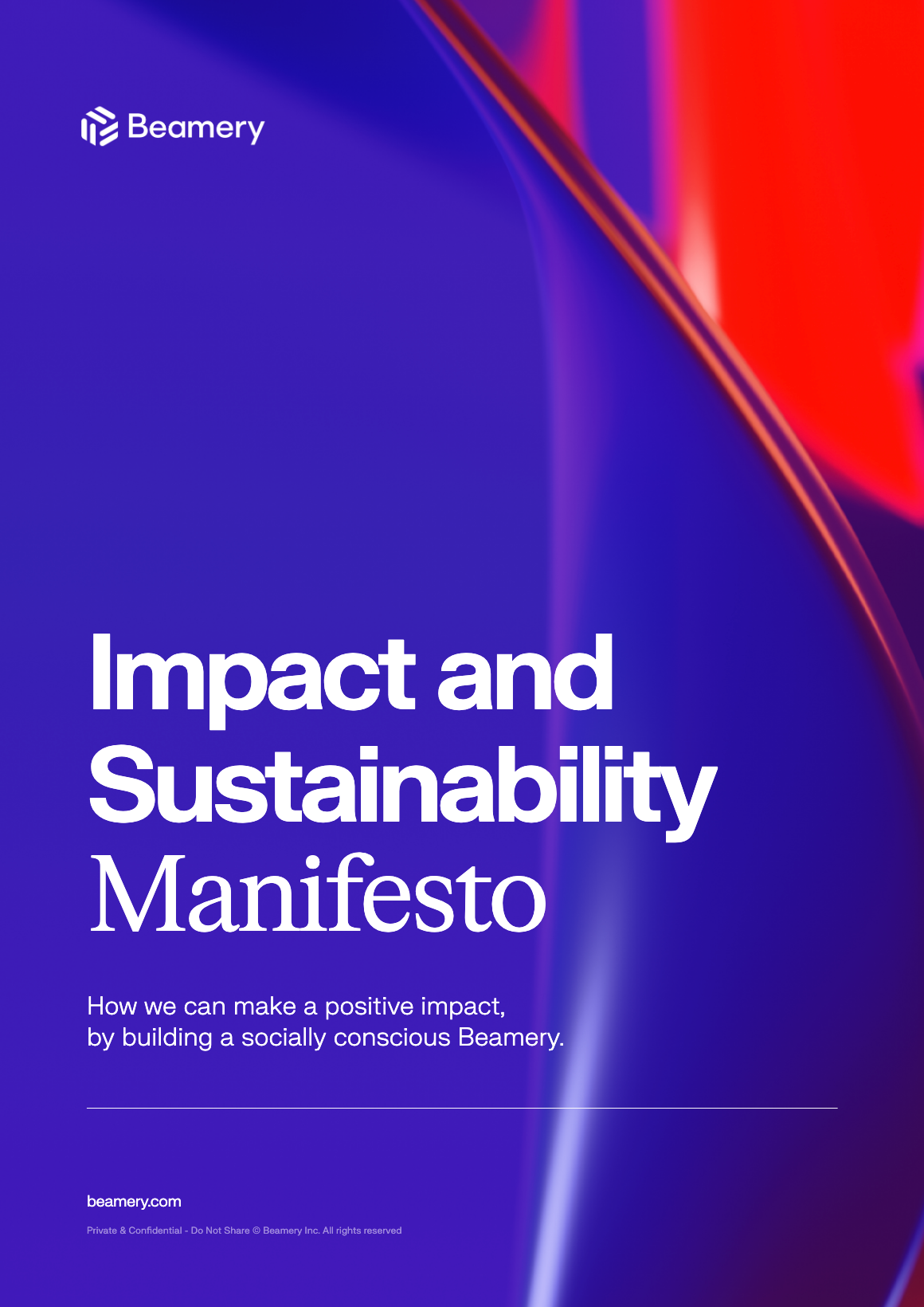 Beamery also completely closed the inclusion experience gap between LGBTQ+ employees and their heterosexual peers. Inclusion gaps signal that minority groups have a different experience than the majority group. To tackle the gap, Beamery:
Introduced the norm for people to set their pronouns in all internal tools
Organise events, book clubs & movies with LGBTQ+ themes throughout the year
Ensure that all internal policies use gender-neutral language (read more about their approach to inclusive communication & policies on the Beamery blog)
The Fair HQ platform shows that Beamery successfully closed the LGBTQ+ inclusion gap, signalling their open, inclusive culture of belonging. At Beamery, sexuality and gender identity don't impact people's experiences.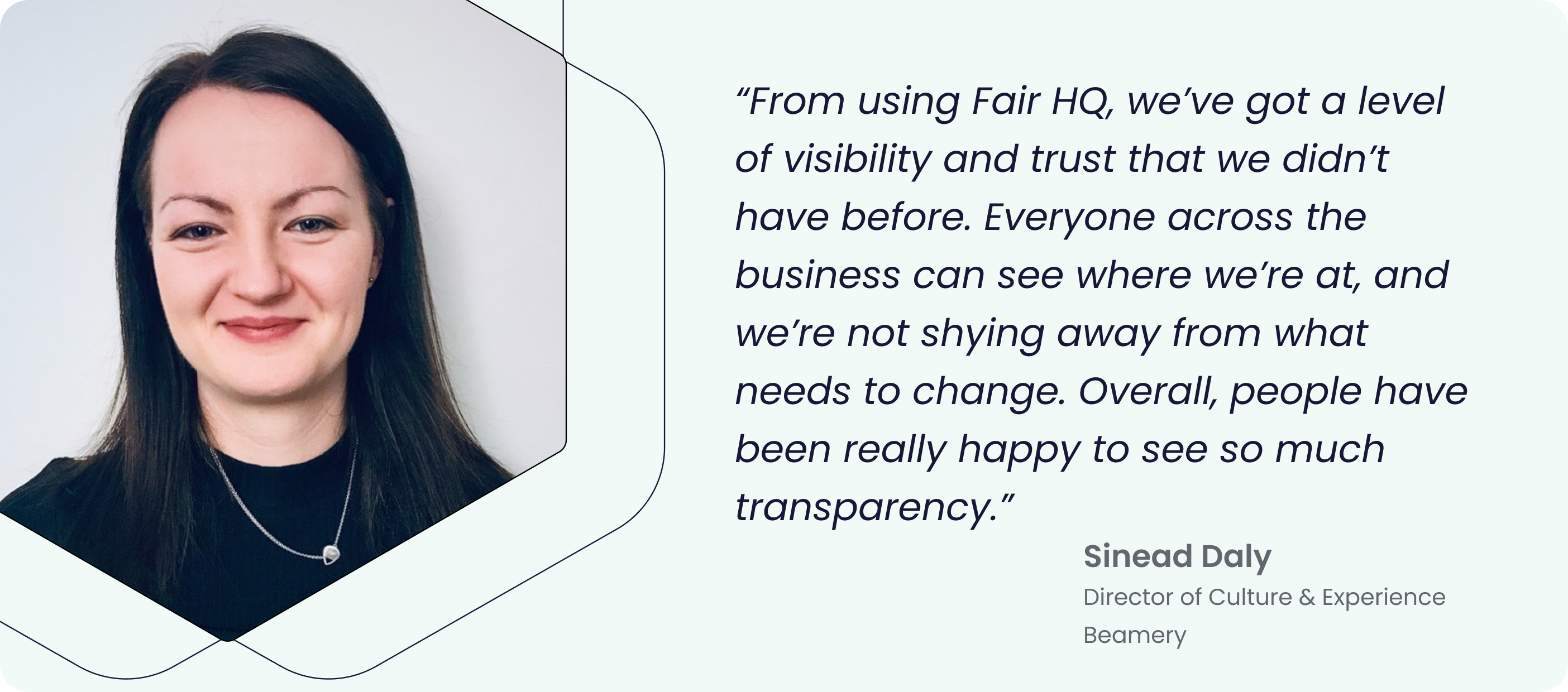 Building scalable processes
Beamery is a global company, with offices over the UK, the USA and Germany, and they're continuing to grow. Sinead and her team have made plenty of changes to ensure that everyone in the business gets equal access to opportunities, no matter where they are globally.
So what are some of the changes Beamery have made since using Fair HQ? Two areas that saw significant boosts in scores were Performance and Onboarding. Here's how Beamery built fair, open and transparent processes with Fair HQ.
Performance: Tripling their score
Before Beamery started using Fair HQ, their performance review process was lacking structure. Employees were losing out on meaningful opportunities to grow. The changes Beamery made with Fair HQ have had a huge impact on the employee experience.
In 2022, Beamery achieved perfect proportionality of outcomes. There is no imbalance in high performance ratings regarding gender or ethnicity, pointing toward their new bias-free performance review process.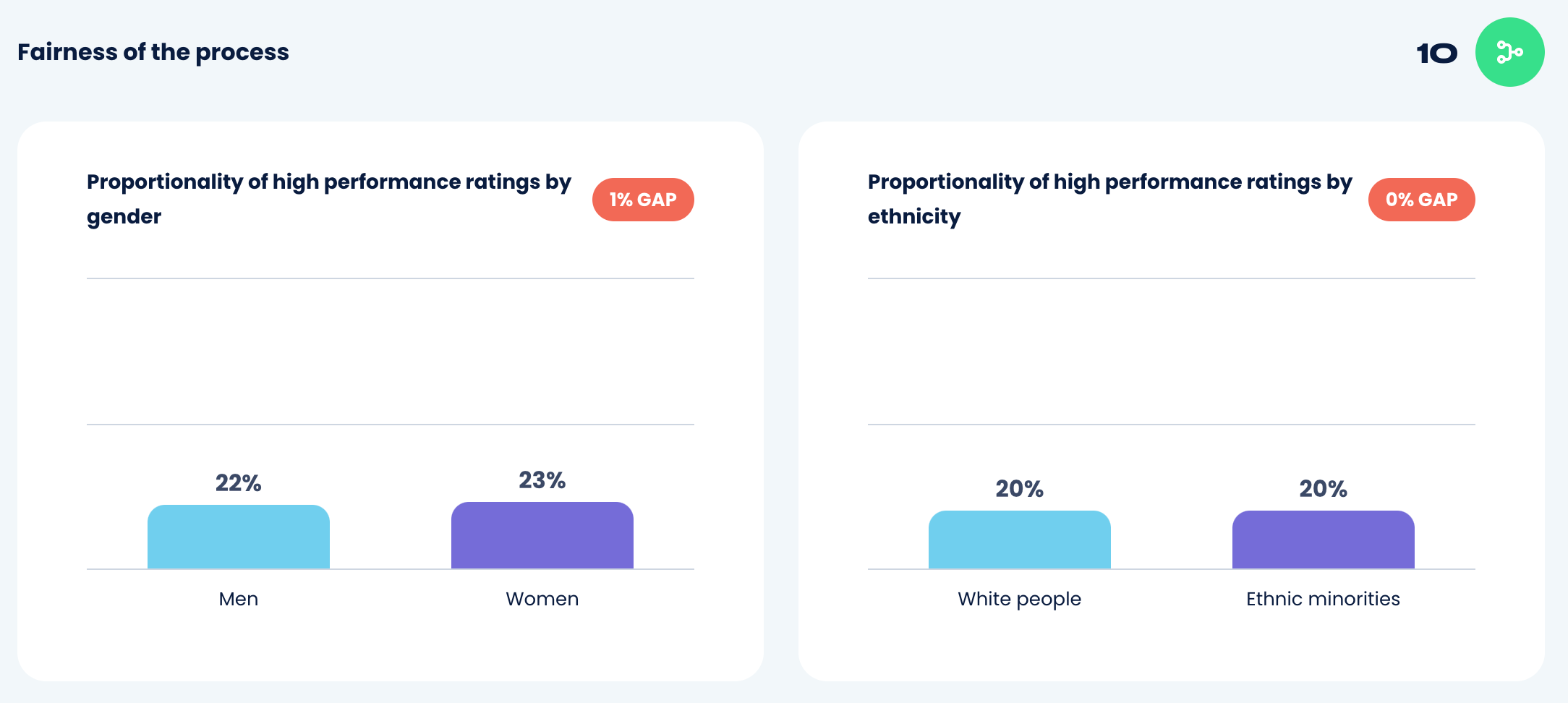 Fair HQ recommendations and checklists provided rigorous guidance on how to build up their performance process. This included:
Set the habit of regular 1-on-1 growth conversations, including conversation guides and example questions.
Set time-bound and measurable objectives for employees, helping them connect to the bigger picture of team-wide and company goals.
Set up a review committee to monitor the fairness of decisions around performance and progression. This ensured that performance decisions were based on merit, not familiarity.
Now, Beamery has excellent frameworks to ensure consistency and employees are encouraged to develop all year round. 100% of their people have development goals and 100% of eligible employees have 1:1 conversations their managers.
Read more about their process changes at the Beamery blog.
Onboarding: From beginner to advanced
For Beamery, it's important that new hires have a positive experience as soon as they join the company. Sinead and the team wanted to bake in meaningful connections as early as possible to help new hires hit the ground running.
To calculate Equality scores, Fair HQ triangulates data across internal policies, company practices, fairness of outcomes and employee experiences. This gave Beamery in-depth insight into what to improve and where they excel. After making improvements to their Onboarding set up, their scores doubled.
Beamery has offices across the globe, each with a unique set-up. Fair HQ provided guidance on how to streamline the onboarding process to keep things consistent for all new joiners.
Here are some of the changes they made with Fair HQ recommendations:
Inspired by a Fair HQ recommendation on skip-level connections, all new hires meet the CEO of Beamery on their first day.
Managers help new employees set clear objectives for their first 90 days.
New employees are introduced to informal and formal networks, helping them develop their networks early.
"Before setting up a standardised process, people's onboarding experiences were inconsistent. We went through a robust checklist of everything to include in our onboarding package with the guidance Fair HQ provided. Now, we're seeing people have a much more streamlined experience. As soon as people join, they build a sense of connection, find information and get visibility with leadership. People are now consistently positive about their onboarding experience." – Sinead Daly
Our take on the process…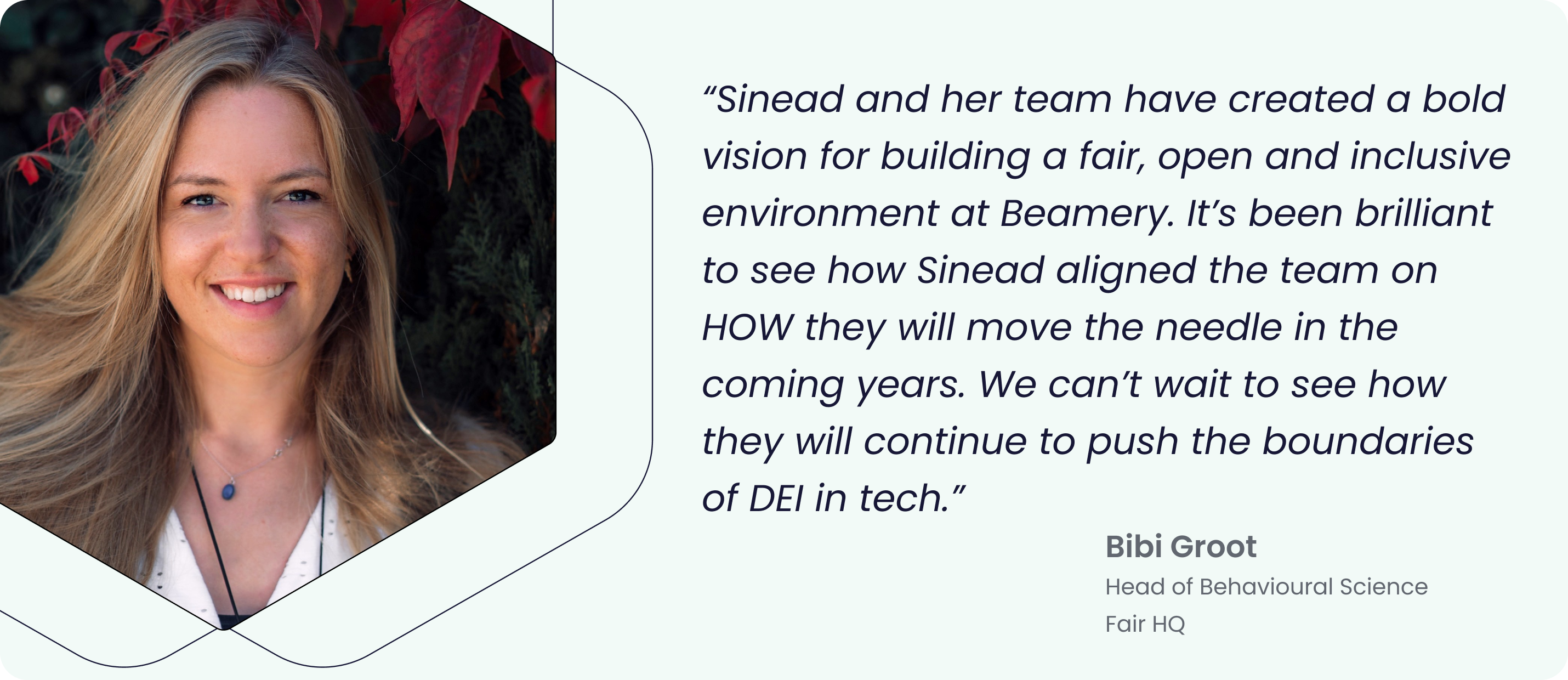 Looking to build scalable, equitable processes in your company?
Talk to us