Product designer
REMOTE (UK & EUROPE)
About us
Fair HQ is the first tech platform to help startups, scale-ups and VCs embed diversity & inclusion across their businesses and remove bias from their process & behaviours. Some of our customers have called Fair HQ their "Head of D&I", which we find both rewarding & fitting. We're an early stage startup backed by prominent London VCs amazing tech founders.
We exist because the world we're living in today is not (yet) fair — someone's background & identity still influence how they're able to navigate the world of work. We're here to change that. Join us on our mission to create a truly meritocratic society. We're Fair (it's in the name!) — we don't judge you on your background, but on your passion, skills and experience.
About the role
As our product designer, you will help us evolve our product vision and user experience. You will act as a user advocate, helping us to uncover customer needs and create simple & elegant solutions.
You'll be working closely with our Founder & CEO Kate, who currently leads the product, with Bibi who's leading our scientific vision, and of course our product development team – our CTO Tracy, David on Frontend and Allan on Backend. We're also now hiring a full time product manager who will join the team soon. You will also have your very own design advisor – Majo, who has helped us build the Fair HQ product, brand and design system up to this point.
We are a fully remote team — your day will be a mix of Zoom calls, focused time working independently, and shared collaboration using online tools. That said, get ready for team retreats in exciting locations around Europe and the US.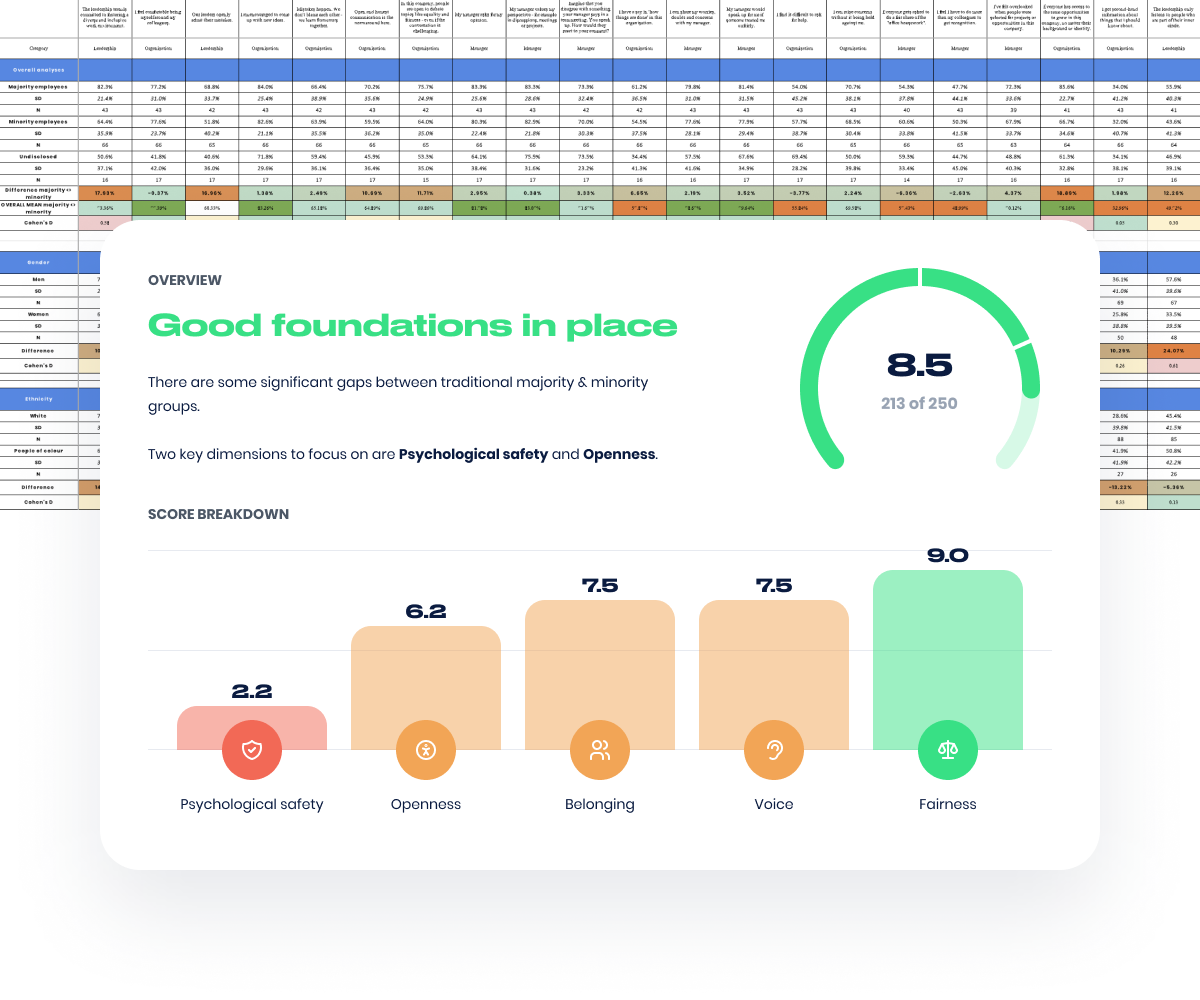 Here's just an example of a challenge you might be working on - turning a huge spreadsheet with loads of data into sleek experience helping users make informed decision that will help to make their company better.
What you'll do at Fair HQ
Gaining in-depth understanding of our customers, their needs, our current product and most importantly, the science & philosophy behind it.
Continuing to develop our product vision with the Fair HQ founding team and our early customers
Proactively conducting user research, communicating insights back to the team and translating your findings into the product
Suggesting new solutions and improvements to the product & user experience, creating prototypes and testing them with our current & potential customers
Applying our brand, visuals and design system within our product & services
Working closely with product manager & dev team on defining, estimating and implementing product features
Measuring the impact of implemented solutions in the product – using qualitative and quantitative methods (with the help of the data engineering, dev & behavioural science teams)
Overtime (12+ months)
Help us build and mentor a diverse design team
Build a world class framework for an inclusive product design to inspire other companies
What will help you do the job well
A passion for improving diversity and inclusion in the workplace and beyond
Having an enthusiasm for identifying and understanding customers' needs
Being able to skilfully dive into complex problems and come up with simple and elegant solutions
Broad experience of the UX & Interaction design process (from user research, ideation, creating and testing prototypes, delivering final design to applying a design system)
Experience with designing user experiences for B2B SaaS platforms
The ability to evolve our current design system
IMPORTANT: please apply even if you don't have experience of all of the above. We're happy for you to learn on the job.
Diversity at Fair HQ
We're committed to hiring diversely at Fair HQ. We're very lucky to have people from a huge variety of backgrounds on our team. Diversity brings a wealth of perspectives, experience and creativity to our work. We encourage members of underrepresented groups to apply to this role.
**We've taken care to craft a hiring process where candidates are judged on their unique talent and aptitude, not their identity. That's why we:
Don't ask for your CV
Use work samples to assess your skills
Go for skills-based interviews rather than assessing 'culture fit'
What do we offer?
💸 Salary is £55,000-70,000/year for UK based employees. The exact salary will be decided according to your experience, it is negotiable.
🚀 Employee stock options – get a piece of the company success you help to create (after probation)
🐙 Flexible & remote working
💻 MacBook
🎧 Remote home-working set up (using HOFY) or access to part-time hotdesking in your location (after probation, but can be agreed on earlier if needed)
🏝 30 days of holidays incl. UK bank holidays + plenty of paid leave options (see our full Holidays & paid time off policy )
🤓 Personal development plan: access to tools, books and people
🍝 Fascinating lunch & learns with experts in the industry
🌆 Team retreats in cool locations such as Lisbon, Amsterdam & Prague
🩺 Private health insurance or online GP service up to £35/month – (after probation)
💪 Other benefits tailored to your needs
🎁 Some surprise presents throughout the year
Sounds like the perfect fit?
We're committed to being fair and transparent, which is why we're asking you to complete a quick survey. We'd love to get to know you by learning about your experience and skills. In fact, we don't need a cover letter or your CV!
If you have any questions about this role, please contact us at hello@fairhq.co