Product designer
REMOTE (UK & EUROPE)
About us
Fair HQ is the first tech platform to help startups and scale-ups embed diversity & inclusion across their businesses and remove bias from their processes & behaviors. Some of our customers have called Fair HQ their "Head of D&I", which we find both rewarding & fitting. We're an early-stage startup backed by prominent London VCs and amazing tech founders.
We exist because the world we're living in today is not (yet) fair — someone's background & identity still influence how they're able to navigate the world of work. We're here to change that. Join us on our mission to create a truly meritocratic society. We're Fair (it's in the name!) — we won't judge you on your background, but on your passion, skills and experience.
About the role
As our first product designer, you will help us evolve our user experience, design system and product vision. You will act as a user and design advocate, helping us to create simple & elegant solutions solving real customer problems.
You'll be working in a cross-functional team. Your closest teammates will be Kate – Founder & CEO, Hayley – Head of Product, Bibi – Head of Behavioural Science and Tracy – our CTO together with another 3 engineers (Helton, Gio & Ioanna). You will have your very own on-call design advisor and buddy, Majo – who has helped to build several product unicorns, so lots of learnings to share. Majo has helped us build the Fair HQ product, brand and design system up to this point.
We're a fully remote team working across Europe. We meet every 2-3 months in fabulous locations such as Lisbon, London or Amsterdam. In between, we enjoy the flexibility and focus time off working as a team remotely. And even when we're apart, we keep connected with regular chats, check-ins and remote team fun!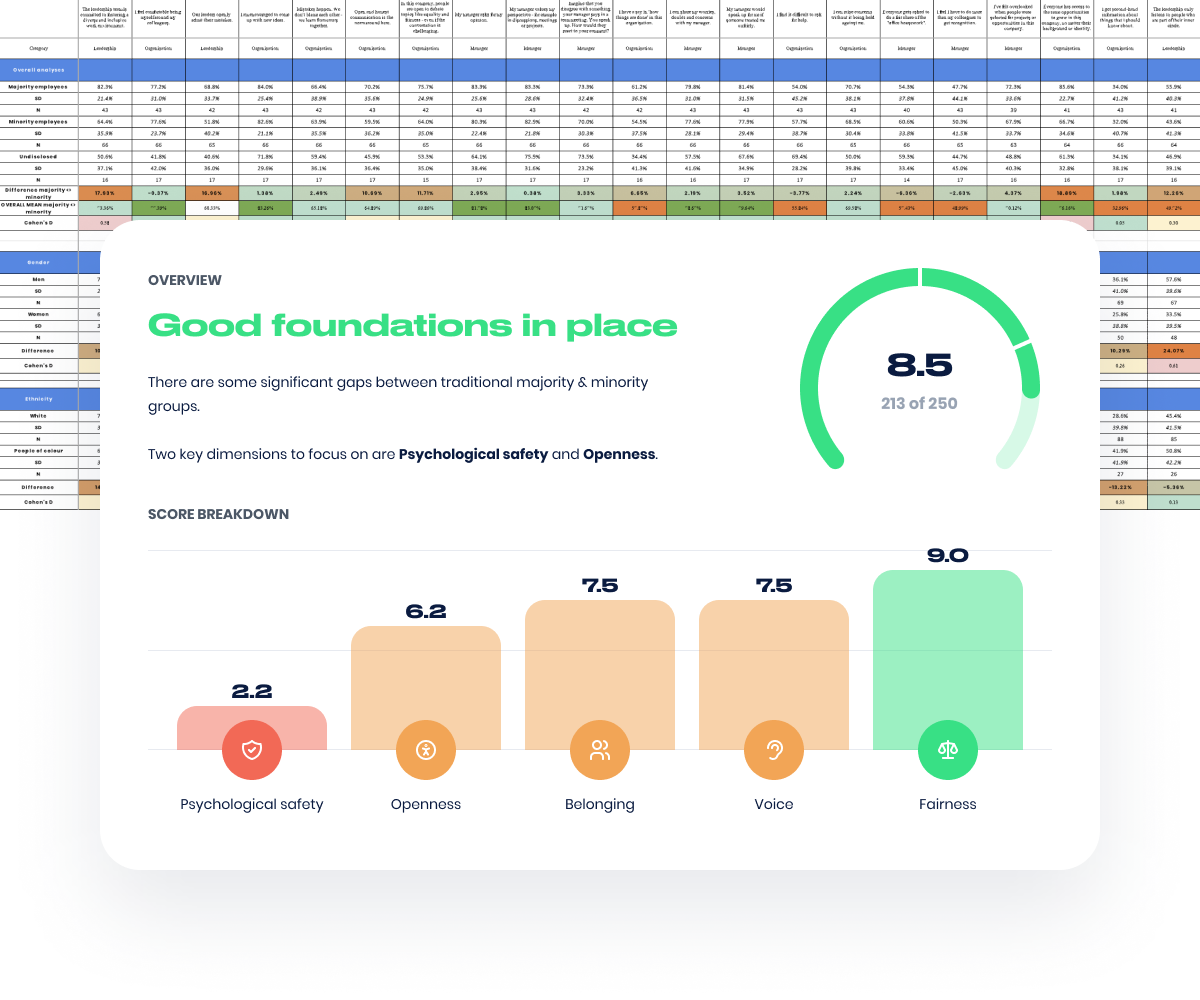 Here's just an example of a challenge you might be working on - turning a huge spreadsheet with loads of data into sleek experience helping users make informed decision that will help to make their company better.
What you'll do at Fair HQ
As our Product Designer, you will be:
Working in a cross-functional team on defining, estimating and implementing product features.
Running the full product design process end to end.
Suggesting new solutions and improvements to the product & user experience, creating prototypes and testing them with our current & potential customers.
Proactively validating your designs & solutions, communicating insights back to the team and translating your findings into the product.
Applying and developing our brand, visuals and design system further.
IMPORTANT: please apply even if you don't have experience of all of the above. We're happy for you to learn on the job.
What will help you do the job well
Strategic thinker — you love connecting the dots and seeing the bigger picture. Solving complex problems at scale brings you joy.
Efficient executor — you make a plan, break things down into small chunks and execute it flawlessly and quickly while bringing other people on board. You never leave a pixel hanging out in the wrong place. 😁
Fast learner — constantly learning new things brings you excitement and fulfillment. You're hungry for feedback and want to improve in everything you do. Rather than relying on hand-holding, you love to figure things out from scratch. You thrive in a fast-paced environment (i.e., a startup!), otherwise, you get bored.
Team player — you recognise when things are going well, and you're quick to spot blockers and jump to help or ask for support from others. You embrace the challenge, communicate effectively and never drop the ball!
Diversity at Fair HQ
We're committed to hiring diversely at Fair HQ. We're very lucky to have people from a huge variety of backgrounds on our team. Diversity brings a wealth of perspectives, experience and creativity to our work. We encourage members of underrepresented groups to apply to this role.
**We've taken care to craft a hiring process where candidates are judged on their unique talent and aptitude, not their identity. That's why we:
Don't ask for your CV
Use work samples to assess your skills
Go for skills-based interviews rather than assessing 'culture fit'
What do we offer?
💸 Salary is £60,000-80,000/year for UK based employees. The exact salary will be decided according to your experience, it is negotiable.
🚀 Employee stock options – get a piece of the company success you help to create (after probation)
🐙 Flexible & remote working
💻 MacBook of your choice
🎧 Remote home-working set up (using HOFY) or access to part-time hotdesking in your location (after probation, but can be agreed on earlier if needed)
🏝 30 days of holidays incl. UK bank holidays + plenty of paid leave options (see our full Holidays & paid time off policy )
🤓 Personal development plan: access to tools, books and people
🍝 Fascinating lunch & learns with experts in the industry
🌆 Team retreats in cool locations such as Lisbon, Amsterdam & Prague
🩺 Private health insurance or online GP service up to £65/month – (after probation)
💪 Other benefits tailored to your needs
🎁 Some surprise presents throughout the year
Sounds like the perfect fit?
We're committed to being fair and transparent, which is why we're asking you to complete a quick survey. We'd love to get to know you by learning about your experience and skills. In fact, we don't need a cover letter or your CV!
If you have any questions about this role, please contact us at hello@fairhq.co